It was quite a change, actually. Me, as we say, a 'born and brought up' Bangalorean huduga, never being away from my city for more than 3 days at a stretch and there I was, shifting bag & baggage to Chennai!! People visualised all sorts of the worst possible outcomes for me, including being fried, for one, thanks to Chennai's heat! I could sense they missed me, actually! :) And yet, in 2002, economic compulsions & a brand new job made me move.
I learnt to adapt as invariably such events force you to. The other thing that made the move easy was a new fancy that I picked up, one that was right up my street. Nope, it wasn't any aspiring Kollywood starlet, thank you very much, Kodambakkam being very much in our vicinity. It was *drum roll, please* blogging! And the man who actually introduced me to this activity was none other than Kiruba, one of Indian blogdom's celebrity & a true blue Chennaite. I was searching for someone to design a website, came across Kiruba's firm, met him many a time and as they say, the rest is history.
Over the past 6 odd years that my fancy has been sustained (480 posts now and counting, folks!) I've been reading his blogs off and on. What I marvel about the man is his incredible ability to adapt, reinvent himself and keep pushing the boundaries of learning and application. One other thing he does well - very well, i must add - is to ignore comments from non-entities, folks jealous of his ability to be in the thick of things. I say 'non-entities' as expectedly, these folks always take the cover of anonymity and make asinine comments about the dots, commas, fullstops in his posts or take other pot shots at him.
One can be sure that he'll continue to blog till kingdom come. And though the Kiruba today says he helps " ... play an active part in helping spread Wikipedia's usage" in India and potrays himself as a techie and hobnobs with the best and brightest, he is, to me, the following things that matter most: a very cool dude, a cooler dad, helpful husband & his parent's blue eyed boy! Cheers, Kribs!

Here he is, in a new avatar of sorts: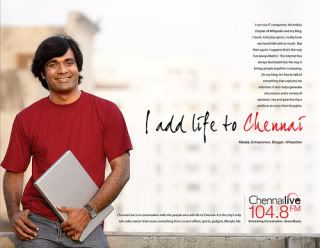 :)