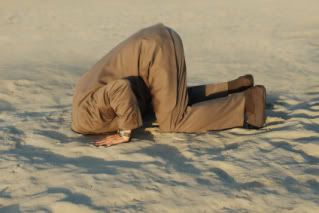 Nope, that's not me!!!
For those of you wondering (thanks, Lubna for enquiring) where in god's wonderful creation have I been hiding in, rest assured, I'm very much alive & kicking but don't know whether I am neck-deep or knee-deep in work.
Since the last post, lets see.... I've attended workshops, helped kids with their exams (wifey will have a contrarian opinion but what the hell, she doesn't read this blog and so I can get away with this), paid my taxes, smoked the peace pipe regularly ( don't ask with whom!), fantasized about exercising to get rid of the flab around the middle, watched my investments loose 50% of their value in the stock market crash, be astounded with my daughter's perceptiveness, feel proud seeing my younger son's reading interest / habits, break into a sweat thinking about my elder son's academic progress or lack of it, gain new insights into my strengths & weaknesses and often wished if it were possible that I could just drop everything and take off to the back of beyond. Preferably, Bali, thank you very much! So, you see, just another everyday guy with his everyday problems & the lack of motivation to write his thoughts over here.
Maybe, it will come. Maybe, it won't.
Naaah, am just kidding. Will resume.
Thanks for visiting & reading!
:)
Posted at 02:41 pm by Ravi
Ravi


May 6, 2009 09:41 AM PDT



Thanks, Shiv! Hope you didn't mean still busy planning more family members?! ;) Just kidding. Yup, will catch up while in Chennai next. Do also let me know in case you come over here. Cheers!
Shiv


April 26, 2009 08:37 AM PDT



Ha ha ha..I liked this post...U mentioned all ur family members too...so still busy? hope u get time to visit namma chennai sometime so that we can relive the gud old days...take care ravi...