You know how obituaries read. Very funereal, to say the least.
Words that struggle to capture the loss of the loved one. Translating bereavement and memories into words & feelings - all too short within the confines of a 'box' ad. At times, tending to eulogize the person and elevate s/he to the different status.
Ironically, affectation rather than affection would have been the ruling emotion while the deceased was still alive!!
Which is why this one - starkly different, yet light-hearted and celebratory in tone - was a pleasure to read.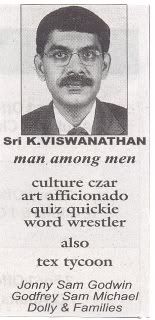 Mr. K Vishwanathan, RIP!
Posted at 12:05 pm by Ravi
Ravi


February 15, 2006 03:35 PM PST



Visit,
Re: long lists of child/g.children, i know what you mean! Sometimes, obit's here are like that...
:)
visithra


February 15, 2006 11:50 AM PST



i kinda like reading obituaries with long lists of family members that run into great great grandchildren

but its a pain doing them n wording when ure torn from time n space n so much info to give out